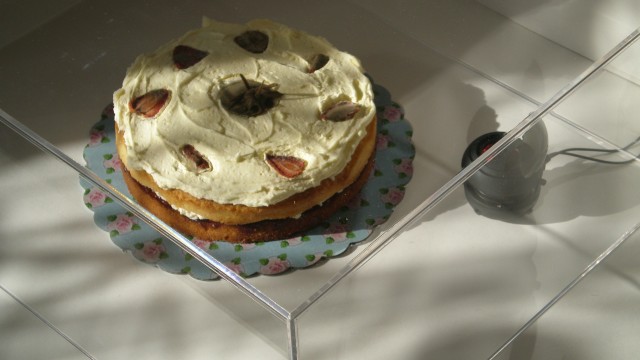 MutedNiobe is an artwork with sound which was made in response to working with the feminist HerNoise archive at LCC/CRiSAP. It plays on the ideas of archiving as a form of death and of suffocation and presents a gendered item with gendered sound. A cake, in state of gentle decay, beneath a clear Perspex box: a specimen for examination. Inside the box, accompanying the cake, is a tiny mini-speaker playing a track – on repeat – that is also contained within this glass prison. The track plays, but those outside the box are intended to be aware of a limit on their listening, the sound filtering from behind the barrier of the Perspex walls.
MutedNiobe plays on the nature of the archived HerNoise exhibition, housed under restricted viewing conditions at CRiSAP. The highly gendered 'living, progressive' entity rests under lock and key, repurposed as research tool. MutedNiobe embodies its specifically female and vital nature, placed beyond real engagement. Encased are the voices of myself and my mother baking the cake in April 2012, discussing feminism and motherhood.
MutedNiobe was exhibited at the MA Sound Art Soiree 'Jack Harris a Retrospective' in July 2012 in the new Gallery at the London College of Communication.