PROXIMITY (2012)
Spiral Structure Installation, bass-baritone (Rodney Earl Clarke)
' "Have you ever really looked carefully at your watch?" The questioner knows that I've looked at it often enough, and now his question deprives me of the sight which I've grown used to and which accordingly has nothing more to say to me … I realise that I have given up seeing the watch itself with an astonished eye; and it is in many ways an astonishing piece of machinery.' (Brecht, 2009)
PROXIMITY is about confronting sound and committing to hearing.
Confronted one-on-one with the living source, detachment and observation are transformed into true involvement: intense and visceral.
By syphoning the audience away from our multimedia, sound-saturated world this installation sends the participant on a 'physically composed' journey of discovery: demanding that they become consumed by the actual live sound source.
It compels an involvement with the reality of sound: there is no absent-minded listening or semi-connection to the experience.
RODNEY EARL CLARKE
Hailed by Gramophone as 'a singer to be watched', award-winning bass-baritone Rodney Earl Clarke has performed as soloist in the BBC Proms, for ENO, with Simon Rattle & The Berlin Philharmonic and for the LSO. www.rodneyearlclarke.com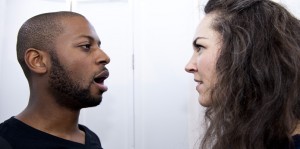 Responses –
DAVID TOOP "The piece explored not just ideas of intimacy, presence, space and the body but actualised them in a way that was both confrontational and consoling. Something in the discomfort and rarity of this contradiction opened the experience out to unpredictable subjectivity.
Listening, looking and being could not be separated in the shock of closeness; before a rational response could be formulated the experience was over. Perhaps it was the sense of disappearing into a labyrinth and finding other labyrinths – eyes and throat – so close, as if in a mirror, but space seemed to disappear also, leaving only the time of encounter. All the artifice of the singer's craft was suspended in that physical proximity of conversation with the listener's vulnerability."
DANIELA CASCELLA "I really liked your piece, as I wrote to David [Toop] a few days ago it made me think of how often we're used to sounds of voices being amplified and distant, and how unsettling it is to be confronted with a singing voice in a direct way. It also reminded me a bit of my childhood in Italy, I had an uncle who was a tenor and sang in church but sometimes when we visited him and his family he would sing in the lounge and as a child I always found that space extremely strange and compelling and puzzling."
LITHA EFTHYMIOU "The piece was stunning, mystical, magical and utterly confrontational; forcing the single audience member to confront the intimidating male form, the human voice and, most disturbing of all, themselves."
AMELIA HENDERSON "My colleague at LCC just came to me and said that I had to see "Proximity" before it closed this weekend and thank goodness she did. What an amazing opportunity. It was truly an experience I will never forget!"
JOHN EACOTT "A really fun and engaging piece. It has an aura about it from the moment you enter the whole exhibition and here the operatic voice emanating. Once you walk into the spiral passage the excitement and expectation builds. Standing on the white foot marks is extraordinary, knowing that an unusually close encounter with a stranger who is talented opera singer awaits. The experience of hearing his voice from such proximity is remarkable. The sound is detailed, you are aware and smell his breath, you wonder about the hygiene of being so close. I could not stop myself laughing and smiling for the first minute or so but then regained some composure. Unforgettable."